Patch Reef / Mangrove Snorkel
Let Capt Brian show you lots of tropical fish. Snorkel gear is provided. Feel free to pack a lunch. Need a wetsuit? Add $10. Having fun? Add an hour +$75. The patch reef is a great back-up snorkel spot when the barrier reef is too choppy. If you prefer, we can go lobstering instead.
Patch Reef Snorkel
Captain Brian will take you to a patch reef to snorkel. This is part of the only living coral reef in the continental US. See: colorful fish, turtles, and sponge to name a few. Snorkel gear is provided, but we recommend you bring your own if you have it.
Mangrove Snorkel
If the conditions are better for the Backcountry, and too rough on the oceanside, Captain Brian will take you to a mangrove island to snorkel around the mangrove roots and the fascinating ecosystem. See lobsters, mangrove snappers, barracuda and rays.
Rates
| | Price | |
| --- | --- | --- |
| Base Rate | $250 | Price for 1-4 people for 2 hours |
| Extra Person | +$50 | Per person (6 people max) |
| Extra Time | +$75 | Per hour |
| Wetsuit Rental | +$10 | Per person |
[fareharbor items="22535″]
Itinerary
Snorkeling the Patch Reef

Captain B will take you to the patch reefs off Newfound Harbor. You will see tropical fish: sergeant majors, blue tang, damselfish, angelfish, parrotfish, grunts, snappers and maybe a barracuda or shark. Coral you will see are brain coral, fire coral, fans, sea rods, soft corals and finger Sponge. Snorkel gear is provided, but we recommend you bring your own if you have it.

Snorkeling the Mangroves

Captain B will take you to the mangrove islands in the Backcountry. This is a unique ecosystem. See how the mangroves root and the fish and marine life that lives within them. See lobster, mangrove snappers, barracudas and rays.
Included
Snorkel Gear
Water
Sunscreen
Life Jacket
Not Included
Lunch or snacks
Wetsuit or rashguard
Things you might want to bring along
Bathing suit, snorkel gear, rash guard shirt, sunglasses, towel, hat, sunscreen, water bottle, wet shoes, neck bib, long sleeve shirt, wind breaker, bandana, wet bag, binoculars, camera, snacks and lunch.
Notes
A signed release waiver, and cash or credit card payment, is required prior to boarding.
If prone to seasickness, we recommend that you take Dramamine (or other) the night before.
We want you to drink plenty of water, have something to eat, and use sunscreen liberally.
We have a 48-hour cancellation policy, and the Captain reserves the right to cancel any trip due to weather and/or any other circumstances
Blue Star Operator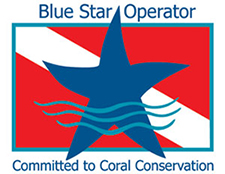 Blue Star is a program established by Florida Keys National Marine Sanctuary recognizing tour operators who are committed to promoting responsible and sustainable diving, snorkeling, and fishing practices to reduce the impact of these activities on ecosystems in the Florida Keys. Blue Star operators take the extra step to educate you to be better environmental stewards and to interact responsibly with natural resources in the Keys.
Map
Request Info