We Have Rounded A Buoy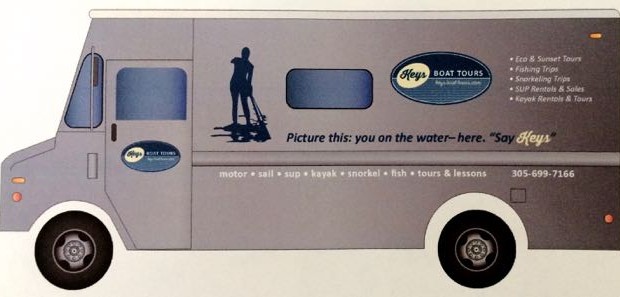 On land, they say, "we've turned a corner." I thought it appropriate in the case to use the phrase, we've rounded a buoy. I am speaking of progress of course, and a "buoy to buoy" philosophy representing goals for Keys Boat Tours. The maiden voyage of our sailboat, Freedom, yesterday was a big milestone for us. We have rounded a buoy with that, and it feels so good. It is actually our second buoy to date. The first one being the formation of our business, Keys Boat Tours; the name, brand, LLC, occupation license, website,  slogan; Picture this: you on the water – here. "Say Keys". Then, there was the individual trips, rates, and so on. I owe so much thanks to my partner Allison for her incredible work.
The launch of the sailboat adds another dimension to our business; we now can officially say that we offer sailboat lessons and tours. Equipment does not make the business, as much as happy clients do, and we have had good success in that department – so far. It is a learning curve to be sure, and we will be patient, one buoy at a time approach; sailing, snorkeling, navigation, fishing, paddle board guided trips and so on. That is to say, there are many buoys ahead of us. And, we look forward to rounding each of them – and adding new ones, for this is not a race, but a life adventure.
Something feels different today from yesterday. That's when you know that you've rounded a buoy. You reach one place, and you are redirected to the next buoy. It could take a while, or you might get there quicker than you thought possible. But, you know when you are there. We certainly have arrived to this point much quicker than I ever thought possible, and I am very grateful. We have a legitimate tour boat operation. We have boats, trips, and soon – a truck. We are very excited about the truck because here in the Keys, it is one of the best ways to market ones self. We have a fun design too. And, it is not just a truck, but a 1984 classic unpainted aluminum box truck a la Fed Ex. The exterior will be for logo marketing, rack cards, maybe even video, and the interior to store SUP's – but it might eventually become a fish taco kitchen.
We have plans for marine science videos, called A Marine Science Moment. We have a book in the works, entitled Expedition of A Lifetime, and we have moved here full time. Yes, we have rounded a buoy, and have many buoys to look forward to. I'll be sure to check in with you at each one.