The Story of the 21' Bay hen sailboat we call Freedom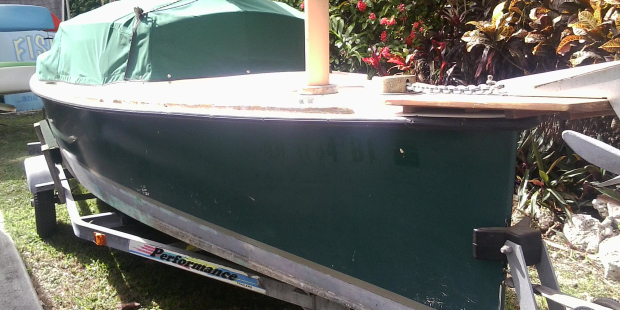 It was a dark summer day – but only because we were inside of a warehouse in Upstate, NY that had few overhead lights. It was a huge storage building that a friend of mine owned. He allowed us to use it to paint a step van that we had recently bought. It was to be a rolling shop, a retail store on wheels, a vehicle / business that we would call Truck Shop, www.truckshop.co. But, I digress.
It was during this time that I discovered this sailboat beneath a cover but on a trailer that hadn't been in the water, or not registered at least since three years prior. I made an inquiry to my friend about the boat. He said it was available for purchase. Such begins the story of how I became the new owner of this 2003 Nimble Bay hen catboat.
The owner, who had never actually sailed the boat was now willing to sell it due to health problems. We agreed on a fair price and before I knew it, it was mine. I purchased it just a few days before I was to depart to the Florida Keys, and was still able to get a transit registration. This boat, one that originated in Florida as a bay boat was going home, both to its place of origin, and our home on Big Pine Key.
She needed some work, many hours worth, but nothing too drastic; new wheels on the trailer, a good cleaning, a thorough sanding, a new boom, some reef points, and a paint job. We would then christen her, Freedom, and make her head of the sailing fleet for Keys Boat Tours. If you own a boat, you have to enjoy working on them. In best case, it is a sort of therapy.