Navigating the Florida Keys and Finding Yourself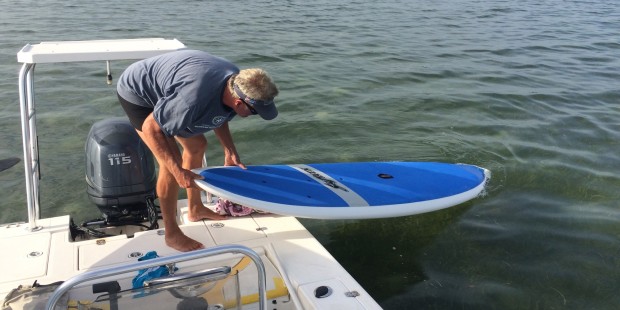 There are a lot of ways to get out on the water, and many great professional guides to take you on your preferred outing. For many, the ideal outing can vary from backcountry fly fishing to blue water sport fishing. It might be a bucket list trip, or just a fun time. But, there are many activities to fill in-between the skinny water on the Gulf and the pelagic outing beyond the reef. For me, it is recreational meets fun. I had gone on enough reef fishing trips where many first time clients motion sickness experience came to life. I want visitors to leave the Keys with only great memories.
To begin: calm seas, near to shore, and affordable. Keys Boat Tours offers paddle board rentals, tours, and workouts. We can motor you out to a protected cove, paddle along a mangrove island, and get retrieved at the other end. If you want to add a patch reef snorkel session, Keys Boat Tours offers that. Perhaps an eco trip, dip, and lunch on an island is more to your liking? Maybe you just want to fish a little, learn a lot, and come home with a meal? Or, just relax during a sunset harbor cruise off Bahia Honda State Park. The idea is to get out on the water without getting seasick, feeling held captive, or breaking the bank.
I have always done things a little different, and Keys Boat Tours follows suit. My office, if you will, is a vintage 1985 Grumman box truck. You will often see it parked at the Scout Key mm 33.5 boat ramp. The inside of the truck doubles as a retail shop, and for paddle board rentals. I am also using the truck to pen my next book, currently titled; "Navigating the Florida Keys and Finding Yourself". It is a journey of perspective and discovery while sailing in the backcountry. My previous book was about the food truck industry, and one that I successfully ran for five years. That book can be found online (Amazon) or at www.foodtruck411book.com. But, that journey was a lifetime ago. Today, I am a certified USCG captain, Lower Keys Chamber member, with registered charter boats, Monroe County occupational license, and fully insured.
Aside from my various tours, I also offer lessons in; Hands-on Boating Safety, Sailing and Basic Navigation, and Fishing 101. These lessons are the only of their kind offered in the Keys. With Boating Safety, you get to drive, dock and anchor. The 3-hour Sailing lesson is a great way to spend time on the water. And, the very informative Fishing 101, Yes, there is finally someone that will tell you how to catch and with what, is super informative. We'll even catch our bait, and end up with a meal.  I'll also tell you what to fill your tackle box with. This information alone will likely pay for the lesson.
In all of my lessons, you part with a booklet of terminology, diagrams, and equipment so to keep it fresh in your mind. There is a guide for everyone down here, and the bulk of them are great people and very experienced. If what I offer sounds good to you, give me a call. My tours include a land itinerary of things to do and places to go, from Marathon to Key West. Time is short. Know where to go.
Navigating the Florida Keys and finding yourself. That's what it's all about. You can find me, Captain Brian at www.keysboattours.com. And, if you see the truck parked at the Scout Key boat ramp, be sure to stop by and say hello. Captan Brian Branigan 305-699-7166.